Remember, Rejoice, Renew! St. Alban's Episcopal Church's 100th Anniversary
A Prayer for St. Alban's Centennial
Open our lips, O Lord, and our mouth shall show forth your praise. To a hurting world, open our lips to speak words of comfort. In a beloved world, open our lips to sing songs of gratitude. To a world suffering from loneliness and disconnection, open our lips to preach unity.
O Lord, our God, open also our hearts. Do not let our praise contain only words. Empower us to serve.
To a hurting world, open our hands to be the hands of Christ–hands that heal, hold, and soothe. To a beloved world, open our doors and fill our church with celebration and rejoicing!
To a world suffering from disconnection, open our arms to embrace, and draw us together in your love.
Glory to the Father, and to the Son, and to the Holy Spirit! As it was in the beginning, is now, and will be forever! Amen.
Fr. J. Devin Rodgers Rector of St. Alban's Episcopal Church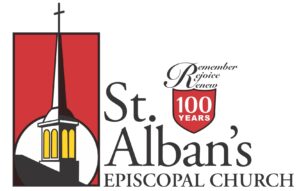 In 1918, the need for an Episcopal Church in Bexley became apparent. Two residents, especially aware of this need, were Dr. David Thomas and Mrs. Emma Cooper Thomas. One evening, they invited a group to meet in their home, and during the next two years, meetings were held in other homes. The meetings were often attended by Diocesan Bishop, The Rt. Reverand Theodore I. Reese.
By 1920, all agreed that an Episcopal church should be established in Bexley. Mr. and Mrs. Thomas made a memorial gift of two adjoining lots on 333 S. Drexel Ave. In the fall of 1921, an Episcopal Sunday School was established. The opening session of this church school is regarded as the birth date for St. Alban's Church of Bexley.
Over the past 100 years, members of St. Alban's have been striving to carry out God's mission in the Bexley community and beyond. We are excited to announce our 100-year anniversary and invite you to remember, rejoice, and renew our calling! A year of celebrations will commence on June 20, 2021.
St. Alban's Through the Years
Celebrating 100 Years of Marriage at St. Alban's
Our Schedule of Celebration Events 
| | |
| --- | --- |
| Month | Invitation |
| June | Join us on June 20th for a kick-off celebration and Birthday party for our church. We will celebrate St. Alban's Day in worship followed by a party in the garden. |
| July | We will be participating in the Bexley Independence Day Parade on July 4th. |
| August | On August 15th during the 10:15 AM worship, join us for a back-to-school celebration and a blessing of backpacks. In honor of our church's beginning as a Sunday School, we will formally kick off the school season by preparing our students, teachers, and families for a successful and holy school year. |
| September | On Sunday, September 12th, come and enjoy a barbeque and an all parish picnic. |
| October | In October, we will celebrate and honor St. Alban's music ministries. On Sunday, October 24th, join us for Music at St. Alban's. Morning services will feature special music by the St. Alban's Choir. At 7:00 PM, we will host Holden Evening Prayer with guest singers and musicians. |
| November | Help us thank our veterans for their service on November 7th during worship. Gobble Gobble! St. Alban's will be sponsoring our annual Turkey Trot on Thursday, November 25th. All proceeds from this race will benefit the Mid Ohio Food Bank |
| December | Sing, Choirs of Angels! On December 19th, we will host cookies and carols. Invite your neighbors for a carol sing-along, and share your favorite Christmas cookies. |
| January | Baptized in Water and Sealed by the Spirit! During the 10:15 worship on January 9th, we will celebrate the sacrament of Holy Baptism by renewing our own Baptismal Vows, remembering all who have been baptized in our parish, and celebrating the Baptism of our Lord. |
| February | Happy Valentine's Day! On February 13th, we will celebrate those who have been married in our church. Bring in your wedding photos, and renew your wedding vows! On February 27th, we will be hosting our 3rd annual St. Alban's Pancake Day! Eat pancakes, share your favorite breakfast casserole, and cheer on your pancake race team. |