Easter 6 – Fr. J. Devin Rodgers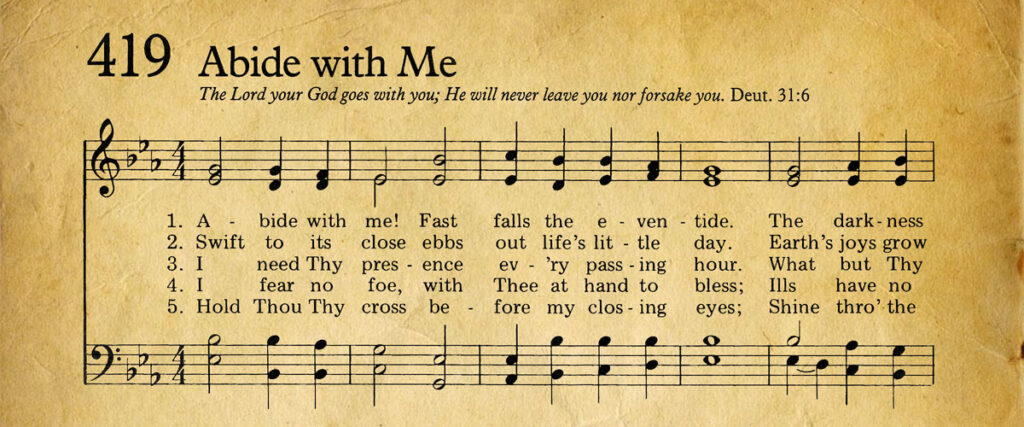 In fourth grade I started taking clarinet lessons. I remember the early days of clarinet playing. Approximately every other note was a horrendous squeak, but eventually I began to improve my fluidity and the songs started to sound recognizable.
Beginning band books often choose songs with very simple, familiar melodies. About ten or so pages into this band book one of the assignments was the familiar hymn. Abide with Me
It wasn't familiar to me. In fact I had never heard it. I struggled and struggled with this piece of music. After days of my family hearing me squeak, miss notes, and play rhythms incorrectly, one afternoon my mom poked her head through my bedroom door and interrupted my practice session.
"Why don't you sing the words to the hymn while you play. It may help you?"
"I don't know this song," I replied.
I knew the words to literally hundreds of hymns from singing in children's choir, but this one must have slipped through the cracks.
My mom taught me the words and sang the melody.
Abide with me; fast falls the eventide;
The darkness deepens; Lord with me abide.
When other helpers fail and comforts flee,
Help of the helpless, O abide with me.
I eventually learned to play it.
Abide with Me was written by Anglican hymn writer Henry Francis Lyte at the same point in his life that he was struggling with tuberculosis. The parallels between Lyte's struggles with illness and the text of the hymn. "the darkness deepens, helpers fell, recognizing our helpless nature" are obvious. Christ is always with us, even when we struggle.
How exactly does the Lord Abide with us?
In John's gospel the big answer is cosmic and miraculous in nature. The Son becomes incarnate in the person Christ. John tells us "the word became flesh and dwelled among us." The kingdom of God and the kingdoms of the earth touch in the person Jesus. God incarnate abides in the creation they created. If you make a literal translation from John's prologue he actually writes, "the word set up camp among us"
This is certainly a theme we see over and over in scriptures.
God leads the children of Israel by a pillar of fire and a cloud, resting and residing in the midst of the journeying people.
When the Temple is constructed, God resides on earth in the Holy of Holies.
When the children of Israel go into exile, God journey's with them to Babylon.
God resides with humanity, fully God, fully human in Jesus Christ.
Eventually the disciples are given the Holy Spirit and God abides with humanity in a new way.
The short answer to how and why God abides with us is much simpler to say, but maybe more difficult to comprehend- Love…immense, unexplainable, freely given love.
Jesus teaches us to abide with God in love.
Jesus said "As the Father has loved me, so I have loved you If you keep my commandments, you will abide in my love." – John 15:9
When we love by keeping the commandment to love and live as Jesus lived, we find ourselves in companionship with God, who is love.
There is a problem with this however. We will struggle. As another verse from Abide with Me states:
Earth's joys grow dim; its glories pass away;
Change and decay in all around I see;
I can imagine that this was how the hymn writer himself felt, but certainly we have all experienced moments in our lives where joy fades as a result of the reality of living in broken world – illness, disaster, poverty, the various isms that plague our world.
It's important to note here that this passage from John's gospel, despite showing up in the Easter lectionary occurs during Holy Week. This passage follows the washing of the disciples' feet on the night before the crucifixion. These words are spoken to give the disciples comfort that despite everything that was about to happen love remains and therefore God's presence does too.
Sometimes, responding to and making ourselves open to Godly love is a struggle. There are times we will feel abandoned.
Jesus himself struggled with this asking God to "take this cup away" in the garden of Gethsemane and even on the cross itself.
"My God my God why have you forsaken me?".
We will also find times where it is hard to love. How do you love your enemies? How do you love that person who gets under your skin? How do you find love in the midst of tragedy or illness?
We might be able to get into lengthy discussions and debates about how this is done, but perhaps the simplest answer is "we practice by loving others in their struggles and in their dim periods of life so that they know and feel that God is present with them through the love that we share."
When others are not able to see God, we show them and we ground this love in the Easter story. Easter transforms God's presence with us!
To use this Easter language, abiding in God's love enables us to look beyond the grave and see Resurrection, a new reality that alters our entire worldview and experience of life.
Christians bear Christ through loving companionship and in giving of themselves to another trusting that the Resurrected Christ is present and very much alive and active in the world he came to save.
Just as Jesus taught his disciples, and teaches us his modern disciples, we teach others this way of love so they too may love.
It is not all that different than my mom teaching me the words of the hymn so that I could play the song with fluidity.
The more we practice, the more it spreads. We eventually find that love becomes habitual, familiar and it moves through our lives with fluidity. More and more, we see that because of God's great love for us, there is not a single place that the Lord does not abide.
I fear no foe, with Thee at hand to bless:
Ills have no weight, and tears no bitterness:
Where is death's sting? where, grave, thy victory?
I triumph still, if Thou abide with me.