Epiphany 7C – Fr. J. Devin Rodgers
Recently I've been interested in the work of poet Diego Perez. He writes behind the pen name "Yung Pueblo" or "Young People" a literary nod to his Latin American roots and a reminder that humanity in the grand scheme of the whole of Creation is quite young and as a result of increased globalization and connectedness, must move towards deeper self-realization in order to recognize our interdependence.
What is interesting about Perez is his work emerges almost exclusively from insights gained during prayer and meditation.
"His writing aims to support the healing of the individual, realizing that when we release our personal burdens we contribute to global peace."
I most appreciate Pueblo's brevity and "to the point" approach. His writing is short, usually less than 50 words, so that it can be absorbed in the moment. ­
His delivery and means of sharing is also creative.
His preferred media of getting his message of peace across?
Instagram.
He does this so that in the midst of often, mindless scrolling and flipping through one's phone, you'll stumble on a message of mindful truth. Readers, including me will stop, internalize his words and then share it.
Short. To the Point. Meaningful. Easy to Share
I'd like to share some of my favorites with you:
One of the keys to happiness is not expecting others to be perfect.
Letting go is a medicine that heals the heart
Change does not hurt, attachments do.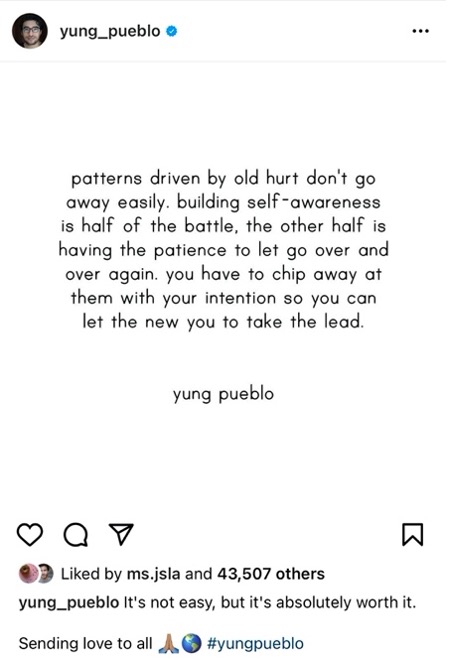 Perez approaches his spirituality and consequently his poetry through a practice known as vipassana meditation. This meditation, which emphasizes, "seeing things as they really are" was developed in India 2500 years ago and aims to enlighten and thus equipping individuals to approach the healing of universal ills through their way of being in the world.
With enough practice, with enough mindfulness we eventually learn to "let go" of what harms us – often the exact same mindsets, views, and selfish attitudes that we use to harm others
We break the cycle, and instead of finding harm, We find peace.
Finding peace enables us to share peace.
Jesus, living and teaching thousands of years before Smartphones and "hitting the send button" shared it another way.
He spoke the same message. God, "I AM" seeks to align your heart, mind, and way of being in the world with the way of being of God. To do this we engage in the same practice of self reflection and letting go!
Jesus said
Listen!
Love people who do not love you back!
When people hate you, keep doing good.
Forgive even when the person doesn't ASK for forgiveness.
The reward you gain will be peace that comes with the revealing of God's nature.
God's nature severes our attachment to tit for tat and quid pro quo exchanges in order that we can receive what God has already extended to us – grace.
In other words…
"Let it Go so you can discover the kingdom of God. Let it go so the sin-filled cycle of harm and suffering ends."
Forgiveness is central to this.
If you're thinking, "Easier said that done."
You're right. It's hard for a multitude of reasons.
Perhaps the biggest and most noticeable reason is we often make forgiveness about the other person whom we are forgiving.
This misses the point. The point of forgiveness is to find reconciliation between people so that the reconciliation between God and people becomes more visible.
When we approach it from this angle, Forgiveness is "letting go" of whatever stands between us and receiving God's grace with the intent to spread "shalom" – the peace, harmony, wholeness, well-being and compassion that comes ONLY from God.
Forgiveness extends from God to each of us, and therefore the process of extending forgiveness continues with us. We can only give away what we've received.
This is why Jesus isn't teaching us wait until the other seeks forgiveness to begin this process of "letting go" We can only be responsible for our own actions and behaviors. Do we behave in a way that reveals God's reign or not? Do we participate in the economy of tit for tat or the economy of God?
Both economies are self perpetuating.
Repeating cycles of brokenness repeat themselves becoming patterns of hurt. Sin becomes more apparent as the cycle escalates.
But the opposite is also true. Repeating cycles of forgiveness become patterns of mending past wrongs. Grace becomes more apparent as the cycle escalates.
When we enter into this repeating pattern our lives, and our relationships, become signs of grace.
This is important and often overlooked, yet we pray for this regularly in our Christian faith.
"Forgive us our trespasses as we forgive those who trespass against us"
Notice where this cycle of reconciliation begins? It starts with each of us, not the one who wronged us.
There is a reason for this. It has to do with what I mentioned early about only being able to give away what we've received.
Listen to this same Gospel passage from the perspective of Jesus, who teaches us to love as God loves.
I love my enemies. I do good to those who hate me. When I am cursed, I offer blessing. When I am abused, I pray for my abuser. When stricken on the face, I offer the other cheek. I do not strike back. I give to all who beg. My garments are taken from me…
If we fast forward several chapters in the Gospel of Luke, the full realization and image of forgiveness becomes more vivid.
The men guarding Jesus began mocking and beating him. They blindfolded him and demanded, "Prophesy! Who hit you!?" And they said many other insulting things to him…
When they came to the place called the Skull, there they crucified him. Jesus said, "Father, forgive them, for they do not know what they are doing."And they divided up his clothes by casting lots. The people stood watching, and the rulers even sneered at him. They said, "He saved others; let him save himself if he is the Christ of God, the Chosen One."
He forgave the men who had condemned him and drove nails into his body.
Jesus teaches us that forgiveness, without deserving, without even asking for it, is Godly. It does nothing short of pointing us to the cross.
We approach forgiveness by first seeking forgiveness for the wrongs we have done.
To do this, we have to build self awareness- self examination. We must then take this self examination and confess the wrongs we have done to God and our neighbor. In this way we break patterns, chipping away at old ways of being, so that a new and holy way of being replaces them. The old fades away the new Godly way emerges and becomes more visible.
But, this takes practice.
This past Friday I spent some time preparing for our upcoming Shrove celebrations.
I'll be the first to admit, I'm really excited about eating mass quantities of fatty breakfast foods, listening to jazz and having a party. However, there is another side of Mardi Gras that we will be adding to our tradition this year.
The word "shrove" is an archaic English word that implies the hearing of confessions.
This year, prior the beginning of Lent I am encouraging you to practice the act of "letting go"
This may mean adopting a practice of meditation. It may mean reading developing a prayer practice of self-examination.
We're also going to approach this through our own tradition's rites and sacraments.
On Shrove Tuesday from 9 AM – 5PM the church will be open for private prayer and for the Rite of Reconciliation,. This practice will continue each Friday morning during Lent.
Please take the opportunity to read in this week's upcoming Red Door about this opportunity and also familiarize yourself with the rite. There is a description in the Book of Common Prayer.
Whether you decide to do this formally the sacrament of reconciliation or through your private prayer, discern and develop a practice of "letting go!" of whatever is standing between you and another or God.
In this way the Christ will be more visible among us.