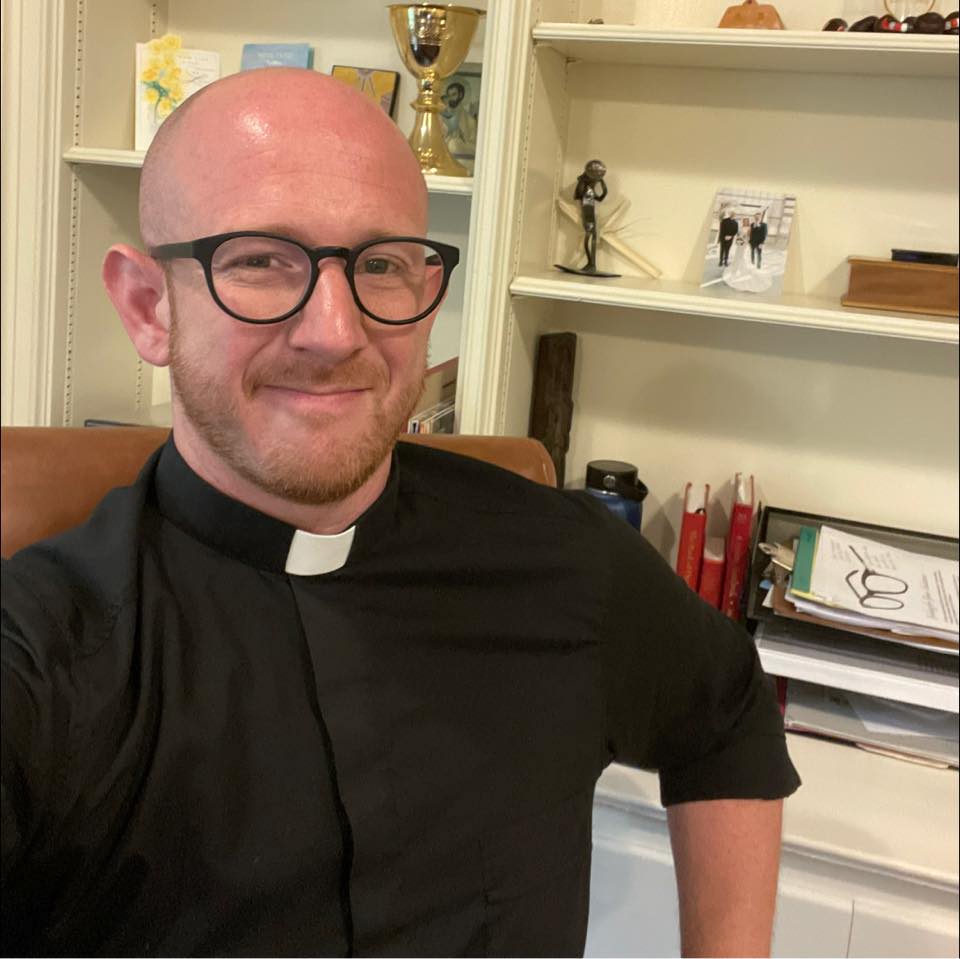 Fr. J. Devin Rodgers
Let Everything that has breath praise the Lord!

Psalm 150:6
Worship is the most important thing we do! Over the summer months and through the
first week of September, we are holding two Sunday worship services (9:15 Jubilee and 10:30
Rite II). While this is different than previous summers, it has allowed for continuity for our
newest Sunday worship and children.
We continue to hold Morning Prayer Wednesdays at 9 AM. We've seen a slight increase in
attendance and will be adding in a few hymns here and there. Come join us!
On August 6th, I presided at the marriage of JD Malone and Carol Kauffman. If you see them in
worship, be sure to offer them well wishes! It was a beautiful service.
On August 21st, Kayla Aspeslagh will be transitioning out of her ministry here at St. Alban's and
leadership with the Jubilee service. I cannot thank Kayla enough for her time and ministry with
us. She is a blessing! Christine Overway will be stepping in as an interim youth minister. Welcome
to the staff, Christine! Please join Kayla for a reception on August 21st at both the Jubilee service
and after the 10:30 AM liturgy.
In the same way, let your light shine before others, that they may see your good deeds and

glorify your Father in heaven.

Matthew 5:16
All hands on deck! The service and outward-facing ministry of St. Alban's is
growing! Presently, the anchors of service opportunities continue to be Creation Care, our
partnership with Columbus Early Learning Centers (gardening, food bags, CPR training), and
our monthly Homeless Meals Ministry. As always, you are encouraged to get involved with these
opportunities.
Starting August 21st with an all-parish kick-off meeting, we will turn our attention to the 2022
Turkey Trot. This year, the race is being chaired by Lauren and Matthew Leahy. We want this to
be the biggest and best Turkey Trot yet. Per our strategic plan, we are creating ministry
opportunities for EVERYONE regardless of age, ability, or experience. In addition, the "race
season" will conclude with a "St. Alban's Thanksgiving" potluck in early December. At this
celebration, we will recognize and celebrate our hard efforts with our varied ministries, our
pledge campaign, and of course the Turkey Trot. We will also recognize members who have
contributed a great deal to the life and ministry of our parish in the past year (Date TBD).
I know the plans I have for you," declares the LORD, "plans to prosper you and not to harm

you, plans to give you hope and a future.

Jeremiah 29:11
The St. Alban's Strategic Plan is underway. At the August Vestry meeting, members will
report on their areas of oversight including assigned leaders for each milestone and completion
dates. My areas of oversight include the liturgical and formational life of the congregation. I will
also continue to include the strategic plan in my sermons and provide a theological framework
for our transformation resulting from ministry we are doing.
Do not forget to show hospitality to strangers, for by so doing some people have shown

hospitality to angels without knowing it.

Hebrews 13:1
Hospitality! Hospitality! Hospitality! I am so impressed with the growth I've seen in our
parish hospitality and welcome. A ministry anchor of this is certainly the fabulous work done by
our coffee hour hosts. Thank you, Jennifer Wood and her newly formed team!
In my ministry, I continue to welcome newcomers and guests to St. Alban's with cards, phone
calls, and "Spiritual Coffee Chats." I love this part of being a rector (by no means are coffee chats
limited to newcomers. Let me know if you'd like to get together).
There are also outward-facing elements of hospitality. Over the last seven weeks, I created and
hosted an online Bible Study, Sanctuary: Exploring the Word in Faith without Fear. I am so
pleased with the profound insight and sharing that resulted from this study. It was well attended
with at least 15 at each session. Members joined from as far away as California and New Orleans.
Most importantly, the group was given the opportunity to share how LGBTQ+ / Allies'
experiences impacted how they read the Bible and faith formation.
Trust in the LORD with all your heart, and do not lean on your own understanding. In all your
ways acknowledge him, and he will make straight your paths.

Proverbs 3:5-6
I will end my ramblings with three next steps that I am asking everyone in our
community to consider. These three spiritual exercises will strengthen our ministry and your
own faith journey.
Adopt a daily gratitude practice. Make a daily list of 3-5 things you're grateful for.
Be sure to include a brief statement about why. That's where the spiritual growth occurs.
"I'm grateful for our staff and lay leaders because they support me in my ministry and
service."
Worship! Worship is not just coming to church on Sunday. It's coming to church on
Sunday, praying daily, welcoming newcomers (preferably before worship begins,) and
discerning how prayer leads you to service and giving of time, talent, and treasure. It also
means coming to church with your authentic self, which is the only self God gave you.
Care. This past year I really began to appreciate the importance of caring for myself and
the members of our church. Be sure to practice sabbath rest, pray, and learn to say both
yes and no as a matter of discernment. Part of self-care entails caring for what gives your
life meaning. It also entails asking for help and support, particularly from me as your
priest and your fellow parishioners.
It is my prayer that St. Alban's is a place where you find life, health, support, and happiness.
As always, I love being your rector and serving God alongside you. What a blessing!
In Peace,
Fr. Devin Rodgers
Rector of St. Alban's