St. Alban's Clergy

The Rev. J. Devin Rodgers – Rector
Fr. Devin Rodgers grew up in Northeast Ohio and graduated from Miami University with a degree in Music Education. He spent five years teaching music in public schools before attending Church Divinity School of the Pacific in Berkeley, California where he graduated with an M. Div. Degree in 2017.
Prior to coming to St. Alban's, Devin served at St. Gregory of Nyssa Episcopal Church in San Francisco, California. He also has experience serving in campus ministry and young adult ministry in the Diocese of Southern Ohio.
Devin's hobbies include running, CrossFit, making music, spending time with friends, and exploring Bexley and Columbus with his beagle, Wallee. He is a past trumpeter and clarinetist in the San Francisco LGBTQ Freedom Band. Devin enjoys playing rugby with the Columbus Coyotes Rugby Football Club.
He is passionate about blending the traditions of the Church with modern culture and discovering where the Holy Spirit is leading God's people. He aspires to lead faith communities to make God's love known to all seekers and believers.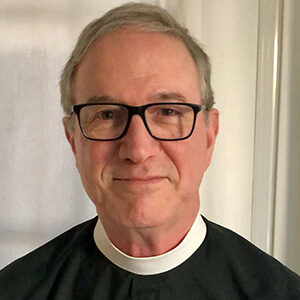 The Rev. Craig A. Foster – Deacon
The Reverend Craig Foster joined the staff at St. Alban's in the Fall of 2021.
He was ordained deacon in 2007 by Bishop Breidenthal and spent nearly 13 years as a deacon at St. John's Episcopal Church in Columbus. Since 2019, his servant ministry has focused on the Solarize Ohio project, which aims to install solar systems on as many Episcopal churches as possible. This project has evolved into the Creation Care and Environmental Task Group. In addition to his servant ministry, Rev. Foster supports both the Social Concerns and Pastoral Care Committees at St. Alban's.
Deacon Craig is an engineer and founding partner of Energility LLC, a commercial energy audit company.
Craig has been married to his wife, Kathy, for 19 years and has a blended family of five daughters, four sons-in-law, eight fantastic grandchildren, and one very spoiled 75-pound lab mix. His hobbies include annually taking eight grandchildren, ranging in age from 4 to 14, to Procter Center Family Camp. He and Kathy also like to travel, especially in their travel trailer with their dog.