As Christians our life of faith is grounded and strengthened in the worship of God. St. Alban's offers several weekly opportunities for prayer and worship.
Sunday Morning
Holy Eucharist Rite I at 8 AM
Holy Eucharist Rite II at 10:15 AM (nursery provided)
Sunday Afternoon
The 3:33 Service - The 3:33 Service is a new way of worshipping and being Church.  We meet at 333 S. Drexel Ave at 3:33 PM to praise and worship the Triune God. This liturgy (worship) is a service geared with our littlest parishioners and their families in mind. Come sing, share, and yes even play with us. We meet outside in the church gardens or in the Parish Hall depending on the weather. In the summertime this service concludes with outdoor games, popsicles, water games and so much more!
Weekday Services
Compline Monday 8:00 PM  via Facebook Live
Morning Prayer Wednesday 8:00 AM  "Celebrating the Seasons and Saints"  Morning Prayer Rite II meets in-person and via Facebook Live Each week, we will commemorate a different saint or church festival.
Past worship services are available at our parish's YouTube Channel.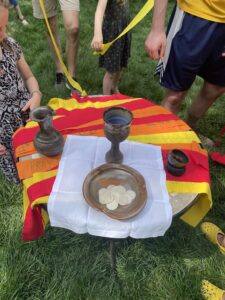 Past worship services are available at our parish's YouTube Channel.
WHAT TO EXPECT WHEN YOU VISIT
There are many different kinds of Christian Churches and many different styles of worship. Our worship is both modern and ancient, protestant and catholic, traditional and new.
Sunday is traditionally when Christians gather together for worship. In most Episcopal Churches, and at St. Alban's, Sunday worship is a celebration of the Holy Eucharist, also known as the mass, Holy Communion, Lord's Supper, or Divine Liturgy. "Eucharist" simply means "thanksgiving." You can learn more about the Eucharist HERE.
There is diversity in the way Episcopalians worship. We come from various backgrounds and traditions. At St. Alban's you are likely to find various styles of music, expression and forms of prayer formal and informal worship styles.
Our worship style is liturgical which means the format of the service is typically the same from week to week. The liturgy, a Greek word meaning the "work of the people," is soaked with prayers, passages of scripture and music. Much of our liturgy has been used by Christians around the world for centuries. Our worship liturgies are primarily found in The Book of Common Prayer.
The first time you worship at St. Alban's we want you to feel at home. Our service bulletins contain everything you need to participate in the liturgy with us. You may feel a bit confused if liturgical worship is new to you. We stand, sit kneel, pray together, sing, and receive communion or a blessing. However, after a few weeks, the rhythm will begin to feel familiar.
We value and celebrate the presence of children in church. To assist in children's spiritual formation we provide worship resources for school age children and activity packets. We also encourage families with young ones to sit close to the front so they can see!
GOD LOVES YOU-NO EXCEPTIONS!
Because of God's great and inclusive love, we welcome all people. Diversity is a valued and celebrated part of who we are.
The Episcopal Church has a legacy of inclusion and honors the gifts and identity of all God's children.