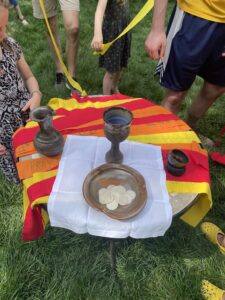 Sunday Morning
Holy Eucharist Rite I at 8 AM
Holy Eucharist Rite II at 10:15 AM (nursery provided)
Sunday Afternoon
The 3:33 Service - The 3:33 Service is a new way of worshipping and being Church.  We meet at 333 S. Drexel Ave at 3:33 PM to praise and worship the Triune God. This liturgy (worship) is a service geared with our littlest parishioners and their families in mind. Come sing, share, and yes even play with us. We meet outside in the church gardens or in the Parish Hall depending on the weather. In the summertime this service concludes with outdoor games, popsicles, water games and so much more!
Weekday Services
Compline Monday 8:00 PM  via Facebook Live
Morning Prayer Wednesday 8:00 AM  "Celebrating the Seasons and Saints"  Morning Prayer Rite II meets in-person and via Facebook Live Each week, we will commemorate a different saint or church festival.
Past worship services are available at our parish's YouTube Channel.
---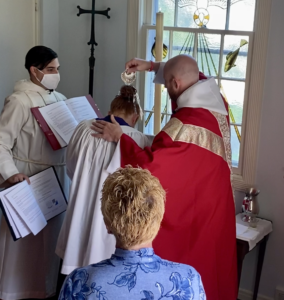 What is "Rite I? and Rite II?"  
Two different forms for the service of Holy Communion
Rite I: Utilizes older, Shakesperian style language; music is a part of this service
Rite II: a service of Holy Communion using contemporary English
Both services are contained in The Book of Common Prayer which is our "reference" for worship.
You may access it online HERE